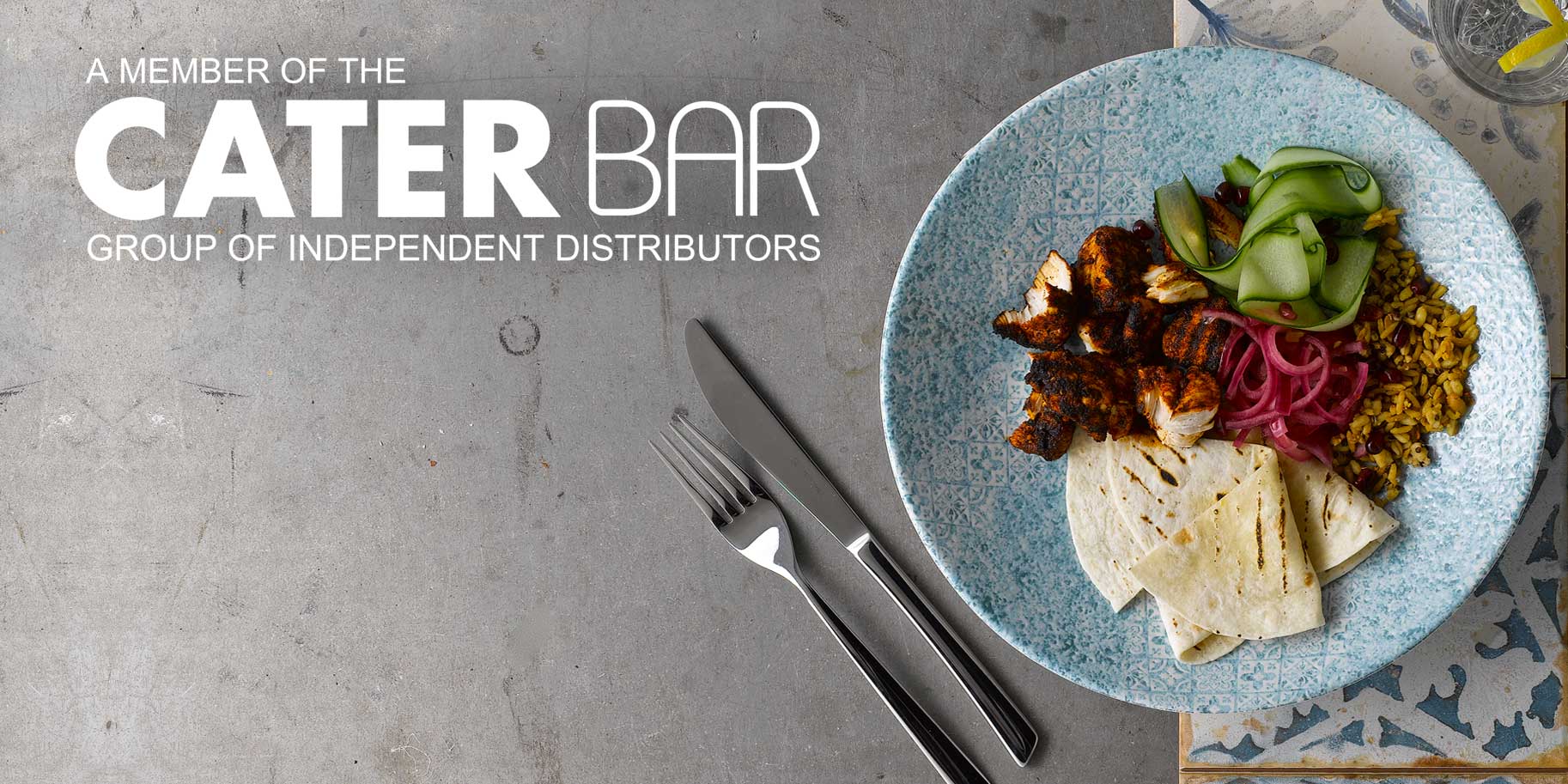 Established in 1986, Caterbar is a national consortium of independent catering equipment distributors. 
With a combined purchasing power and an established trading network, the group is able to obtain the best possible prices from manufacturers and importers. Through strategic locations in the UK, Caterbar members are then positioned to provide an excellent service for their customers.
Established Organisation
Founded in 1986 and incorporated in 1995, Caterbar today is a group of 15 collaborative businesses. The consortium works collectively to help all its members realise their full potential.
Access to Exclusive Discounts
Through well-established relationships, Caterbar members benefit from advantageous pricing structures and bulk discounts that help to maximise profits and increase trading efficiency.
Buying Power
The group utilises a collective buying network to ensure that all members can benefit. From heavy equipment to disposables, all sectors of the hospitality industry are within our remit.
Networking Events
Caterbar members have access to a number of events, group meetings and networking opportunities — including the annual Supplier Excellence Awards.
caterbar supplier excellence awards 2019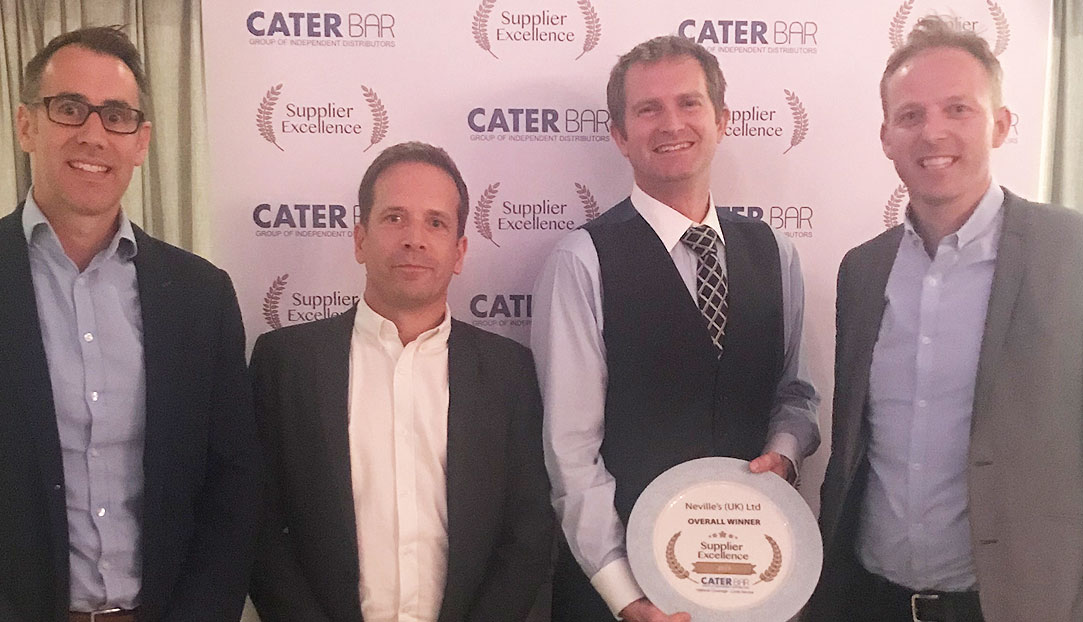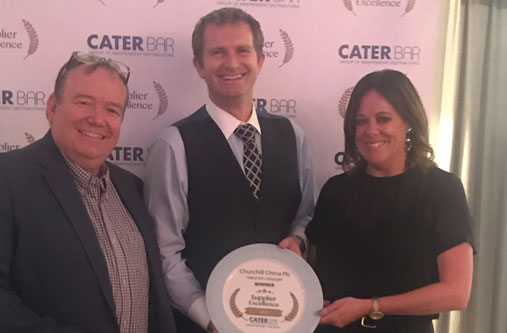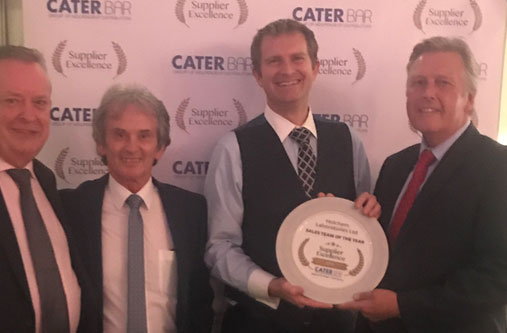 On July 4

th

 2019, Caterbar held its annual Supplier Excellence Awards function at the Cottons Hotel & Spa, Knutsford. As always, the event proved to be a great opportunity for suppliers and distributors to touch base and to celebrate successes from the past year.
Group chairman Henry Stephenson, who is also the managing director of Stockport based distributor Stephensons, said: "It was a terrific evening that facilitated positive discussions with suppliers and members, while also celebrating the innovative products and great service that have helped make these relationships so effective and fruitful."
The fifteen-member Caterbar group collectively voted on all of the categories, with judging based on the effectiveness of suppliers based on the following criteria: product range, innovation, product quality, website accessibility, market pricing, delivery, order & fill lead time, customer service, sales representation and marketing/promotion schemes.
Henry Stephenson presented the trophies, which quite appropriately were decorated premium plates. On the evening, Henry also delivered a speech that reflected on the state of the industry and future plans for the consortium.
Big winners on the night were Neville's, who managed to scoop up the coveted 'Overall Winner' award. The South East London group was selected for its overall commitment to innovation, as well as the continued success and customer orientated product development ethos of the Genware brand.
Also celebrating were Churchill China, who were given the nod in the Tabletop category and Northwood Hygiene Products, who were selected as the overall winners for Hygiene & Consumables. Sales Team of the Year went to Holchem Laboratories Ltd and Galgorm were named as the Suppliers Partner (Distributor) of the Year. Highly commended on the evening were DPS, Essity, Waypoint and Cofresco Foodservice.
Caterbar Executive Officer Richard Agnew commented: "the suppliers and members feel the event is an invaluable tool in fostering and cementing business relationships and strategies. Caterbar facilitates the independent distributors constant search for the best products and services, allowing them to deliver for their customers, even during these challenging times."
Reflecting on another successful year for Caterbar, Henry Stephenson added – "Commenting from both a Stephenson's perspective, and as the chairman for Caterbar, I can honestly say that despite some uncertainties within the industry and indeed the economic climate as whole, the positivity and progress made over these past 12 months has been heartening.
The consortium expanded in 2019 to cover an even wider distribution network, and through strategic purchasing and a trend-focused information exchange, we're now perfectly placed to keep up our consistently high levels of customer service ahead of our upcoming 25th anniversary in 2020."
Caterbar Members
National Coverage – Local Service
Whether it's disposables, tableware, cleaning products or heavy equipment, Caterbar's supplier network covers all aspects of the hospitality industry.
 We're extremely proud that this network is comprised of leading brands from the UK and beyond. This allows us to offer our customers a comprehensive selection of high quality products. 
A WORD FROM Our
MEMBERS & SUPPLIERS
Caterbar succeeds because of the connection between the members and the suppliers. Here's a snippet of why it works…
Richard Dyson
Supplier: Greyland
"Since 2008, Greyland have been honoured to supply The Caterbar Group.

Today the current Caterbar membership contains many leading distributors, who have paralleled their own individual businesses' alongside Greyland, to provide a first class package for all their end users across UK and Ireland."
Brian Mayling
Member: Caterers Supplied
"Caterbar has given us excellent knowledge of the marketplace and being a member has enabled us access to the leading manufactures providing us with current trends, innovation, government legislation and quality.
The groups combined buying power allows us to be extremely competetive and we're very proud to be a member of the professional Caterbar family."
Tom Ewer
Supplier: Nevilles UK
"Success in business is never guaranteed, however the relationships that we have through Caterbar make it far more likely that it can be achieved. For each of the 15 years we have been supplying Caterbar, we have seen greater growth from Caterbar members than our overall Company growth.
We look forward to our continued association with Caterbar, and am sure it will go from strength to strength."
Caterbar are open to hearing from prospective members and suppliers who want to expand and thrive as part of our consortium. If you'd like to contact us for membership, or any 

other

 matters, please use the details below.
Address
Caterbar Ltd
Richard Agnew
Executive Officer
t: 07525 860 393
e: ragnew@caterbar.co.uk
Registered Office:
161 Buxton Road
Stockport
Cheshire
SK2 6EQ
Administrative Office:
24 Blacksgrove
Ballymena
BT43 6AS
If you'd like to get in touch with us, do please fill out the form below.